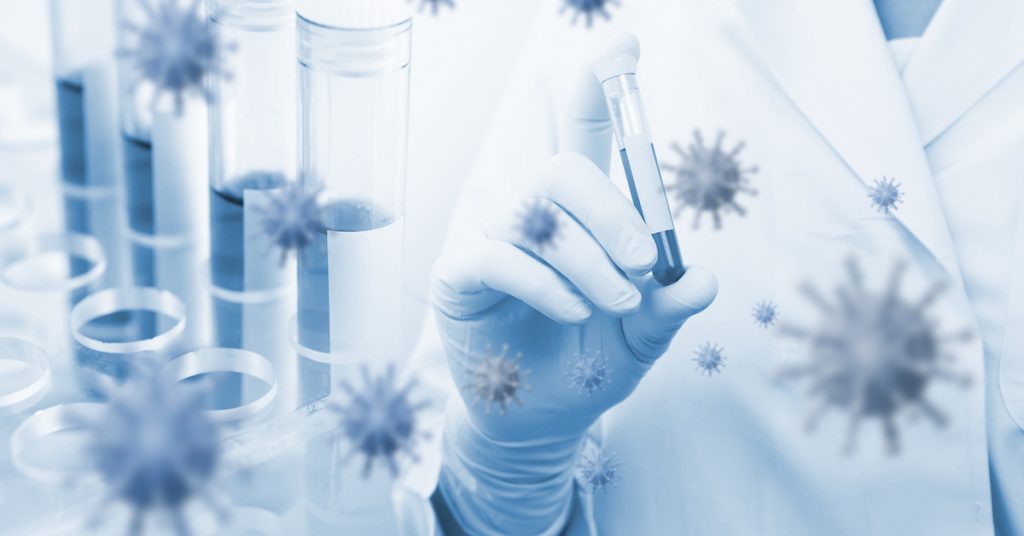 With different types of COVID-19 tests—and a whole lot of misinformation out there that's spreading as fast as the virus itself—how do you protect yourself and your loved ones? FastMed is here to explain the various COVID-19 test types, so you can decide which test is best for you.
If you were exposed to COVID-19 or suspect you may have the virus but aren't sure what types of COVID-19 tests you should consider, you're not alone.
You likely have a lot of questions. Where can I find reliable COVID-19 testing near me? Are rapid tests as accurate as others? If I test positive for COVID-19 antibodies, does that mean I'm immune?
Worrying if you have COVID-19 and how to keep your family safe is stressful enough. FastMed can help you sort through the facts and fiction about COVID-19 test types and accuracy, so you can get the answers you need.
Diagnostic tests vs. antibody tests
Before we get into specific tests, all types of COVID-19 tests fall into one of two categories: diagnostic tests and antibody tests.
Diagnostic tests are used to confirm if you have an active COVID-19 infection. The primary goal of diagnostic testing is to identify positive cases as soon as possible, so you can self-isolate as recommended. You should get tested if you're experiencing symptoms or have been in close contact with someone who tested positive.
Antibody tests detect the presence of antibodies made by your immune system in response to SARS-CoV-2, the virus that causes COVID-19. If test results show that you have antibodies, you were likely infected by COVID-19 at some point. You may have some immunity as well. But with so many unanswered questions about COVID-19 antibodies, there are no guarantees of permanent immunity from the virus.
FastMed offers both diagnostic and antibody testing at all Arizona, North Carolina, and Texas clinics. Continue reading to learn more about your options for these COVID-19 test types and how they can benefit you.
When in doubt, get diagnosed
The best way to protect yourself and others is to know if you're infected with the COVID-19 virus. Whether you have symptoms or find out that you were exposed to someone who tested positive, taking a diagnostic test promptly can help stop the spread of the virus.
The diagnostic COVID-19 tests offered by FastMed include:
PCR test: Also known as a molecular test or viral test, this test uses a technique called polymerase chain reaction (PCR) to detect genetic material that's specific to the virus. A PCR test can detect the virus within days of infection, even if you have no symptoms. The patient is given a nasal swab, which is sent to an outside lab for testing. Results are typically available within a few days. A rapid molecular test can provide results in one hour or less, although the results may be less accurate. PCR tests can only diagnose active COVID-19 infections and do not show if you were infected in the past.
Antigen test: This COVID-19 test uses a nasal swab to detect protein fragments that are specific to the virus. Most antigen tests are rapid, with results provided in as little as 15 minutes. However, an antigen test is not as sensitive as a PCR or molecular test. If your antigen test is negative but you're high-risk or have symptoms of COVID-19, your doctor may order a PCR test to confirm the results.
All about antibodies
Unlike diagnostic tests, which detect active COVID-19 infections, antibody tests are used to determine if you had COVID-19 in the past and now have antibodies against the virus. These tests are NOT used to diagnose COVID-19. In fact, they're usually performed after you've fully recovered from the virus. No nasal swabs are required—instead, a blood sample is used for antibody testing, with results provided in a few days.
The key to a successful antibody test is timing. If you test too early as your antibodies are building up (which can take several days or weeks), it may not detect them. Therefore, antibody testing is not recommended until at least 14 days after your onset of symptoms.
COVID-19 test types & accuracy
While COVID-19 tests can and do help stop the spread of the virus—especially diagnostic tests—it's important to reiterate that no COVID-19 test is 100% accurate. Therefore, we must all continue to do our part by following COVID-19 guidelines from the U.S. Centers for Disease Control and Prevention (CDC), including wearing masks and social distancing.
Schedule your COVID-19 testing today
If you think you may have COVID-19 or had the virus previously, we're here to help. For diagnostic or antibody testing, visit your local FastMed clinic. If you have other urgent care needs, check in online to schedule your in-clinic visit or telemedicine appointment.
In addition to providing convenient COVID-19 testing, FastMed is dedicated to keeping our community educated on the latest health updates. Please click here to learn more about COVID-19 testing at FastMed. For commonly asked questions and the latest CDC recommendation, click here.
About FastMed
FastMed Urgent Care owns and operates nearly 200 centers in North Carolina, Arizona and Texas that provide a broad range of acute/episodic and preventive healthcare services 365 days a year. FastMed also provides workers' compensation and other occupational health services at all its centers, and family and sports medicine services at select locations. FastMed has successfully treated more than six million patients and is the only independent urgent care operator in North Carolina, Arizona and Texas to be awarded The Joint Commission's Gold Seal of Approval® for quality, safety and infection control in ambulatory healthcare. For more information about locations, services, hours of operation, insurance and prices, visit www.fastmed.com.